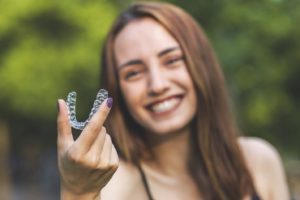 Would you like to have straighter teeth? You may have thought about getting Invisalign in Belmont. Not only is Invisalign convenient, but its clear aligners will allow you to maintain a professional image throughout your treatment period. For many adults and responsible teens, it is the best way to achieve a straighter smile. If you are interested in Invisalign, right now may be the ideal time to begin your treatment. In this article, we discuss why that is the case.
Insurance Benefits Expire Soon
Because Invisalign can cost a significant amount of money, it is only natural to wonder, "Does dental insurance cover Invisalign?" Dental policies vary greatly in what they do and do not cover, so it is difficult to provide a straightforward answer to that question. However, some policies do cover orthodontic treatments, including Invisalign. Often, they cover about half the cost of orthodontics, up to the amount of the policy's annual maximum.
Your plan's annual maximum represents the highest dollar amount that your insurance company is willing to pay out for approved services within a calendar year. For most policies, any unused portion of the maximum expires on December 31. Therefore, if you still have a significant part of your 2020 annual maximum remaining, putting it toward Invisalign could reduce your out of pocket expenses by hundreds of dollars — or perhaps even by a thousand dollars or more.
Your Dentist Wants to Help You Afford Invisalign
Your dentist is eager to help you achieve the healthy, well-aligned smile you deserve. Ask your local practice how they may be able to help you afford your treatment. Some provisions that might be available include:
Help with insurance. Dental team members are used to working with insurance. They can help you navigate your coverage and file your claims.
Financing. You may be eligible for a low-interest or no-interest payment plan through CareCredit.
Invisalign specials.Many practices periodically run limited-time specials on Invisalign. You might even be able to attend your initial consultation for free.
Look Forward to an Improved Smile
Right now, in-person gatherings are limited due to COVID-19. Next year, however, things may be different. If you begin your Invisalign treatment now, you could have a new smile to show off by the time your 2021 year-end festivities roll around. The average Invisalign treatment time is only 12 months! (Of course, treatment time varies from patient to patient.)
Are you ready to find out how Invisalign could benefit you? Right now is the ideal time to schedule your consultation and get started on straightening your teeth.
Meet the Practice
The Center for Contemporary Dentistry is proud to feature a talented team of general dentists and specialists. We even have an on-staff orthodontist. Invisalign is one of the many services we offer. We are an insurance-friendly practice, and we often run specials to make it easier for our patients to afford their treatments. To learn more about us and how we may be able to help you fit Invisalign into your budget, contact us at 603-556-7047.