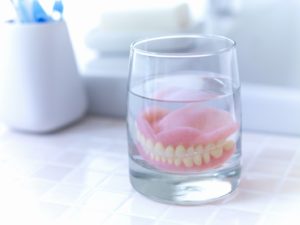 Your dentures are an important part of your everyday life. They enable you to eat a wide variety of foods, and perhaps they give you a confidence boost when you are in social situations. You should certainly take steps to protect them! Caring for your dentures well can ensure that they continue to function properly and last as long as possible. Here are some practical tips to help you tend to your precious prosthetic teeth.
Clean Them Daily
Keeping your denture clean will prevent it from becoming stained or collecting odor-causing bacteria. To clean your dentures:
Remove them from your mouth and rinse them off with warm water. Avoid using hot water because it might cause your denture to warp.
Use a denture cleanser and a denture brush to clean all of your dentures' surfaces. Do not use a regular toothbrush or toothpaste because these might scratch your prosthetic teeth.
Gently brush your tongue, gums, and any remaining natural teeth before you put your denture back in your mouth. It may also be beneficial to use an antibacterial mouth rinse.
Do Not Wear Them 24/7
Even if your denture is very comfortable, you should not wear it 24/7. Remove it from your mouth every evening and store it in a glass of water or a denture-soaking solution overnight. This will give your oral tissues a chance to rest and can prevent your gums from developing sores. If you use a denture-soaking solution, be sure to thoroughly rinse your denture in the morning before you start wearing it again.
Handle Them Carefully
Dentures are durable, but they are not invulnerable to breakage. To reduce the risk that they will break:
Do not use the front teeth of your dentures to bite on hard foods or tear pieces of food off of a larger item, such as a steak or a whole apple.
Avoid sticky and crunchy foods to the extent possible.
When you remove your denture from your mouth, do so over a sink full of water or a folded towel. If you drop them, they will have a soft landing.
Visit Your Dentist Regularly
Even if you do not have any natural teeth, you should still visit your dentist at regular intervals. At these checkups, your dentist will evaluate the health of your gums and jaw. They will also inspect your dentures and periodically reline (adjust) them so they continue to fit well. When it is no longer possible to reline them, your dentist will recommend that you invest in a brand new prosthetic.
Your dentures in Belmont take care of you in many ways. Return the favor by taking care of them! The above tips will help you to do just that.
Meet the Practice
The Center for Contemporary Dentistry in Belmont is proud to feature a team of four oral health doctors, including two general dentists who offer dentures. They provide professional, personalized care in a welcoming environment. If you have questions about how to care properly for your prosthetic teeth, they would be pleased to assist you. Contact our practice at 603-556-7047.